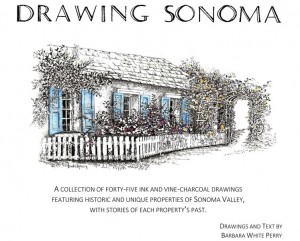 In 1999, Barbara White Perry began documenting Sonoma Valley's most captivating historic properties and buildings that few people have ever seen. Her entire body of work to date, over forty-five images and written history, is entitled DRAWING SONOMA. Barbara soon discovered that familiar barns or unusual properties and vistas were disappearing. A sub-category of DRAWING SONOMA was born. GONE BUT NOT FORGOTTEN is her series of ink and vine-charcoal drawings documenting structures and vistas forever lost to time, neglect or development.
---
A SAMPLE OF STORIES IN THE BOOK: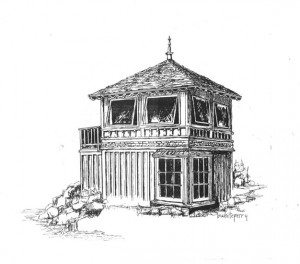 Summer Place "I have admired this unique small house for a very long time. It sits empty along Arroyo Seco Creek at Bartholomew Park, on what was originally Count Agoston Haraszthy's property, Buena Vista. Like Nancy Drew, I felt there was a mystery to its life…."
Angela Grasso Home "While on a walk, I saw a very interesting front wall and gate, but could see nothing else. I contacted the owners who live in San Francisco. I was given permission to open the gate and go inside. What a surprise!"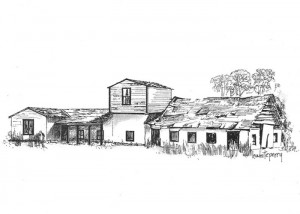 Mystery House on Arnold Drive "How many times have you traveled south on Arnold Drive, looked to the east, and wondered about this house? It is a barn, a ranch style house, and has a second floor perched almost precariously on top…."
---
Drawings and text by Barbara White Perry. The book is an easy-to-read, 8 ½" x 11″ format, with large images and 102 pages. A book the entire family can enjoy.

U.S. orders only. 8.25% tax applies for CA shipping addresses.
---
Also available at Readers' Books, Sonoma Valley Museum of Art, The Sonoma Barracks or through the artist, with delivery to Sonoma residents. Contact Barbara@BarbaraWhitePerry.com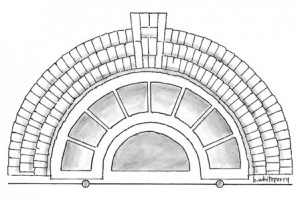 ---
Art Book Sonoma Valley