---
DRAWING SONOMA, a New Edition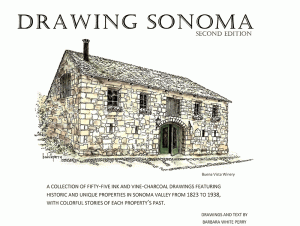 In 1999, Barbara began documenting Sonoma Valley's historic and unique properties with ink and vine charcoal drawings and colorful stories of each property's past. The first edition of Drawing Sonoma was published in 2015. As she continued drawing and writing, her inventory of first edition books dwindled so she has created the Second Edition with 55 images and stories.
Chapter One, the City of Sonoma, is presented with a map to guide readers on a walk around and near the historic Plaza. Other chapters include Sonoma Valley properties, "Gone But Not Forgotten", documenting structures and vistas forever lost to time, neglect or development. Many original stories have been updated to reflect new information.
This is an easy-to-read 11-inches wide format, with large images and 132 pages. A book suitable for all ages. Book Forward by Bill Lynch, Editor Emeritus, Sonoma Index-Tribune.
Barbara White Perry is a SONOMA TREASURE ARTIST named by the City of Sonoma's Cultural and Fine Arts Commission. The Commission not only noted her accomplishments as painter, Illustrator and author, but her numerous contributions to the community.
---