---
DRAWING SONOMA, a New Edition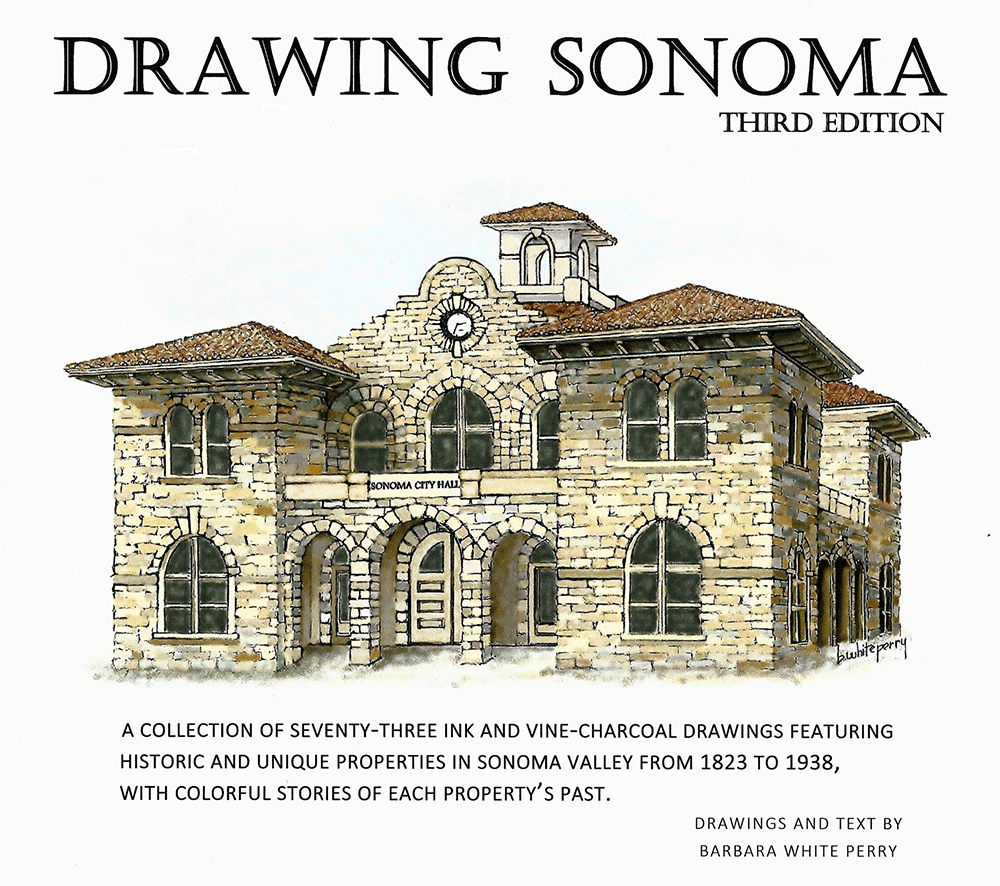 Painting and drawing at an early age in rural St. Charles, Illinois, Barbara was always interested in old buildings. She began ink and vine-charcoal illustrations in 1999 when a friend asked her to draw a barn. The old barn laden with wisteria, backlit by the morning sun and sadly neglected was the trigger to a new approach in her art. She continued documenting the Sonoma Valley through illustrations and researching the historical backgrounds.
In March 2015, White Perry had a month-long solo exhibit in the beautiful Gallery 212 at the Sonoma Community Center. There were 42 images and stories and was well attended. Because of that exhibit many people encouraged her to create a book. Drawing Sonoma First Edition was published in August 2015. The inventory dwindled and sold out. Barbara decided to publish a second edition of 55 images in 2017. Drawing Sonoma, Second Edition sold out in December 2021.
The Third Edition is 161 pages containing four chapters: Exploring Sonoma/Petaluma State Historic Parks; Special properties in the City of Sonoma; Sonoma Valley from North to south; and, Structures and Vistas lost forever to time, neglect or development.
Barbara was named Sonoma Treasure Artist by the City of Sonoma's Cultural and Fine Arts Commission.
"…when we see the artistry and level of craft displayed in Drawing Sonoma Third Edition by Barbara White Perry, we simply have to catch our collective breath. The pen and ink drawings by the artist are intricate and expressive; the descriptions of the buildings are historical and accurate, making the book a joy to read. The book is a work of art and a joyous celebration of our unique history and preservation of our architectural past. You will love this book."

Simon Blattner
---